2021 Biological Sciences Department Newsletter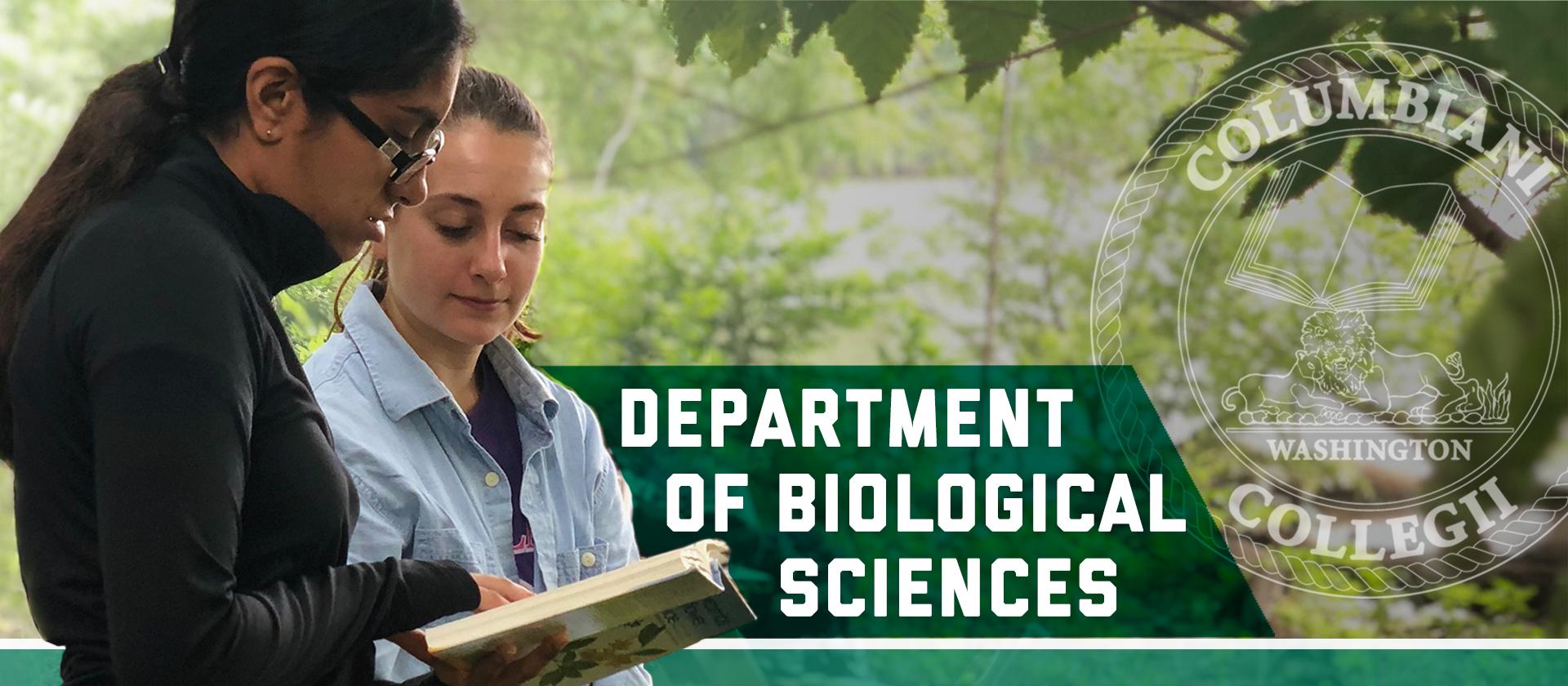 ---
Message From the Chair
A warm welcome from Foggy Bottom to all of our alumni, students, faculty and friends!  
With 2020 in the rearview mirror, the members of the GW Department of Biological Sciences are looking forward to a new and exciting year of research, education, and outreach activities. Despite the many academic challenges arising from a global pandemic, the articles in this issue describe a few of the many ways our department's dedicated students, staff and faculty have doggedly continued to advance their ambitious research agendas while creatively re-imagining how to teach in a new, digital environment. 
We also highlight the personal and professional achievements of our alumni and express our appreciation for the many generous gifts of time, talent and philanthropy provided by our alumni and supporters. Please read on to get a glimpse into some of the exciting happenings in the department.
Dr. John Lill
Chair, Department of Biological Sciences
---
Department Spotlights
Advances in Natural History
Spiders of the World: A Natural History by Dr. Gustavo Hormiga
Together with his international colleagues, Ruth Weintraub Professor of Biology Dr. Gustavo Hormiga published Spiders of the World: A Natural History (Princeton University Press). This richly illustrated book describes the fascinating behaviors, life histories and morphological adaptations that have contributed to the tremendous evolutionary success of spiders in habitats spanning the globe.
The book features stunningly photographed profiles of spider species representing more than 100 different families. It highlights the jaw-dropping diversity of form and function found in this fascinating group of animals. Dr. Hormiga is a senior member of the department and his research program on spiders and their relatives has been continuously funded by major grants from the National Science Foundation for the last 25 years. He was profiled in the CCAS Spotlight magazine.
Biology Alumni Among First Responders in the COVID-19 Battle
Two biology alumni, Drs. Luke Fey, BS '13, and Alexandra Cummings, BS '14, residents in emergency medicine and pediatrics, served on the frontline of the COVID-19 epidemic at hospitals in New York this past summer. Their harrowing experiences treating a seemingly endless line of severely ill patients during the peak of the pandemic in New York were featured in the CCAS Spotlight magazine.
These former GW biology pre-meds, both standout students at GW, earned their medical degrees and were doing residencies when the pandemic hit. Together with three other 2013 biology alums who also went on to become doctors (Elizabeth Buchanan, Nigel Madden and Caleb Seavey), Drs. Fey and Cummings were all undergraduates in Dr. Lill's Plant-Insect Interactions Laboratory course. They stayed in touch after graduation via social media. Dr. Lill reports: "I have never had such an incredibly bright and motivated group of students all in the same class. The biology faculty are enormously proud of all that they have accomplished."
Shape of Fish Holds Key to Evolutionary Mystery
An international team of scientists including Louis Weintraub Professor of Biology Guillermo Ortí, two Columbian College alumni and a former postdoctoral scientist charted the evolution of the snapper fish family to investigate how their morphology tracks environmental shifts. Using genome-scale information, their groundbreaking study revealed several independent evolutionary transitions from bottom-dwellers to midwater swimmers in the snapper family. Along these transitions, fish evolve a predictable body shape with more efficient hydrodynamic profiles, demonstrating a strong degree of evolutionary determinism—a hotly debated concept that suggests evolutionary outcomes can be predictable and governed by the laws of nature instead of chance. Read more about their findings in the CCAS Spotlight magazine.
Students and Faculty Adjust to Online Learning
Following university health guidelines, biology faculty pivoted to fully remote instruction for both the fall 2020 and spring 2021 semesters. Students and faculty worked together to ensure that learning continued unabated, despite the many different situations and time zones. Some of our resilient undergraduates were profiled in the CCAS Spotlight magazine.
With some patience, we all learned to navigate chat boxes, Zoom breakout rooms, lockdown browsers and virtual office hours as we tried our best to keep our students both challenged and engaged. With research laboratories largely shut down, undergraduate research was mostly conducted remotely, with students processing images, annotating gene sequences, analyzing data and writing up the results of experiments conducted prior to the pandemic. Like many of our undergraduates, Liam Searcy, whose story is featured in the article, successfully adjusted to the "new normal," making the best of a challenging situation. As a teaching assistant for Assistant Professor of Biology Hartmut Doebel, Liam helped guide first-year students through a learning environment that was unfamiliar to everyone.
Digital Collections Keep Student Research Alive
With the onset of COVID-19 and resulting disruptions to hands-on student research, Associate Professor of Biology Carly Jordan has been working on a National Science Foundation (NSF)-funded project that is bringing digitized natural history collections into the classroom. Collaborating with a team of education and collections professionals—including university faculty, museum curators and data experts—Jordan helped create four biology-based curriculums to fill the gaps of lost undergraduate research opportunities. Read more about her work in the CCAS Spotlight magazine.
---
Department Kudos
Junior Lucas Vining won a $20,000 award in an innovation contest sponsored by the U.S. Pan Asian American Chamber to fund his start-up company Ichosia Biotechnology. He was profiled in GWToday.
Dr. Ioannis Eleftherianos was awarded a $809,656 grant from the National Science Foundation (NSF) to study the molecular mechanisms underlying immune and metabolic responses to parasitic roundworm infections.
Dr. Carly Jordan was awarded an NSF RAPID grant for $54,729 to promote Course-based Undergraduate Research Experiences (CUREs), where students conduct inquiry-based analyses of museum specimen data utilizing the Biological Collections Ecology and Evolution Network. Her work was profiled in the CCAS Spotlight magazine.
Dr. Keryn Gedan received a $524,436 grant from NSF for collaborative research on "Coastal Critical Zones," processes that transform landscapes and fluxes between land and sea.
Doctoral student Justus Jobe received a Northeast Sustainable Agriculture Research & Education Graduate Student Research Grant totaling $15,000 for his project "Beyond the Fields Edge: Understanding How Adjacent Habitats Influence Crop Damage."
Incoming PhD candidates Jonathan Huie and Abbey Yatsko received prestigious Graduate Research Fellowship Program awards from NSF to support their graduate studies.
PhD candidate Nicolas Hazzi Campo was awarded an early career National Geographic Society grant to support his dissertation project "Species delimitation, evolution and biogeography of Phoneutria (Ctenidae), one of the world's most venomous spiders."
Dr. Patricia Hernandez was elected president of the Society of Integrative and Comparative Biology.
Undergraduate neuroscience major Deepa Reddy co-authored a Nature Neuroscience paper entitled "High-fat food biases hypothalamic and mesolimbic expression of consummatory drives" related to her ongoing undergraduate research in Dr. Michael Krashes' neuroscience lab at the National Institute of Diabetes and Digestive and Kidney Diseases at the NIH in Bethesda, Maryland.
---
Class Notes
Acacia Ackles, BS '18, passed their comprehensive exams in integrative biology at Michigan State University and is now officially a PhD candidate.
Sana Ahmad, BS '13, is in her last year of residency and in the process of applying for cardiology fellowship.
Ziyana Alrawahi, BS '91, is pursuing PhD in environmental science and policy at George Mason University. 
Ariel Young-Arthur, BA '14, manages a newly established research center at the University of Kentucky; the Center for Health Equity Transformation. She manages budgeting, communication, programming, outreach activities and contributes to training.
Ben Barger, BS '20, is currently in his first year of veterinary school at the University of Pennsylvania.
Jeff Becker, BS '80, MD '88, is a pediatric cardiologist. After retiring from the Army in 2008, he joined the medical staff at Children's National Hospital.
Parag Bhanot, BA '97, MD '00, is an associate professor of surgery at Georgetown University School of Medicine.
Ellen Broudy, BS '68, retired from a 28-year career as a teaching and research assistant at the WV School of Osteopathic Medicine. She is also a member of the Sigma Xi Scientific Research Honor Society.
Yasemin Cagil, BS '12, MD '16, is a pediatric gastroenterology fellow at Stanford University. 
Daniela Campanella, PhD '14, moved to Amsterdam from Buenos Aires to join MediaMonks, a creative digital production company. After years of pharmaceutical marketing experience, she is now global account lead for one of the big pharmas.
Lauren Canary, BS '11, was a research associate at the NIH for one year before pursuing her Master in Public Health in Epidemiology from Emory University. She worked as an epidemiologist for five years at the CDC, before returning to D.C. to direct a health policy organization.
Sharif Chebbo, BS '17, is currently in his third year of medical school at New York Medical College. He feels he benefited a great deal from the GW Biology program and conducting research in the GW Manier Lab. 
Arthur De Luigi, BA, BS '97, is the chair of the Department of Physical Medicine & Rehabilitation and the Medical Director of Sports Medicine for Mayo Clinic Arizona.
Christine Favorito, BS '18, is working towards her MS at the University of Georgia's Warnell School of Forestry and Natural Resources. She is researching pollinators in managed pine forests.
Blaise Ferraraccio, BS '75, MD '79, would like to thank Dr. Randy Packer for inspiring him while at GW in his physiology class to continue pursuing his biology major. 
Jill Flanagan, BS '00, MD '04, is a pediatric orthopaedic surgeon in Atlanta, Ga. She specializes in limb deformity and limb lengthening surgeries.
Caroline Francescutti, BS '20, is currently finishing her Master of Science degree in Biology in Dr. Arnaud Martin's Lab at GW.
Steve Frick, BS '87, is a professor and vice chair of the Department of Orthopaedic Surgery at Stanford University School of Medicine, and the chief of Pediatric Orthopaedics at Lucile Packard Children's Hospital. He is also the past president of the Pediatric Orthopaedic Society.
Mandeep Gauthier, BS '05, MD '10, is a mom of three, wife to Alexandre Gauthier, BA '02, MD '10, and an anesthesiologist at Sibley Memorial Hospital in Washington D.C.
Justin Greco, BS '12, is currently a PGY-3 in General Surgery at Lahey Clinic in Burlington, Mass.
Christopher Hsu, BA '07, joined AstraZeneca in October 2020 as an associate director of global marketing for the company's RSV monoclonal antibody immunization program.
Scott Kasden, BA '79, MS '82, is completing his 28th year in private solo plastic surgery practice in the Dallas-Fort Worth, Texas, area. Visit his website.
Jay Katzen, BA '67, MD '72, has been in ophthalmology practice since 1976 and is also president of a real estate company in Virginia. 
Michael Kressner, BS '73, retired four years ago after 32 years practicing gastroenterology in Westchester County, N.Y.
Anna Krueger, BS '01, is an associate professor of biology at Howard University. She loves both teaching the next generation of scientists and conducting fertility research.
Michelle Kulikov, BS '04, MPH '08, lives in Copley, Ohio, with her husband and three young daughters. She is a certified lactation counselor, works at Akron Children's Hospital as a project manager, owns Michelle Dickstein Life Coaching LLC and writes for local publications.
Heather Langner, BS '17, is graduating from medical school in April, hopefully matching into pediatrics in March and is getting married in May. 
Sarah Murad, BS '18, has started her clinical years and is finishing up her USMLE step exams.
Wyatt Nice, BS '20, is attending medical school at GW.
Mary Nordling, BA '92, MD '98, is the founding program director by Oregon Health & Science University for a brand new family medicine residency in Hillsboro, Oregon. They will welcome the first class of eight interns in July 2021.
Mary Perkins, BA '73, retired 10 years ago from a career in public health and safety. She volunteers with her husband at numerous state and national parks including in Alaska.
Joseph Perras, BA '93, MD '97, is the CEO and chief medical officer of Mt. Ascutney Hospital and Health Center in Windsor, Vt.
Laura Sass, BS '93, MD '97 is a pediatric ID doctor and the medical director of Infection Prevention and Control at Children's Hospital of The King's Daughters in  Norfolk, Va. She has been working hard since March to prepare the hospital for the pandemic.
Irwin Shuman, BS '55, remembers his time fondly at GW, in particular his professors, Dr. Hansen and Dr. Mortinson, for whom he was a lab assistant. He practiced urology in D.C. for f48 years and is now happily retired. 
April Sosa, BS '14, is a medical student at the Albert Einstein College of Medicine and will pursue a pediatrics residency in 2022.
Julie Stanley, BS '10, is a physician assistant in orthopedic surgery. She lives in Atlanta, Ga., with her husband and daughter. 
Allie Straus, BS '19, started a PhD program at VCU in translational research in cancer and molecular medicine in 2020.
Ed Tennyson, BS '65, MS '71, retired after a distinguished career with the Department of Interior, researching oil spill containment and cleanup and well fire suppression. His love of the water continues at Smith Mountain Lake, Va. 
Paul Upman, BA '70, retired from North American Sciences in 2006 after 40 years of conducting laboratory work in toxicology and pre-clinical testing of medical devices. He currently resides in Maumee, Ohio, with his wife, Lee, four children and nine grandchildren.
Catherine Waggy, BA '08, is a practicing emergency medicine physician and EMS medical director in Charlotte, N.C.  She, her husband and two boys look forward to when they can embark on international travel again.
Amulya Yaparl, PhD '20, was selected for the 2020 Chorafas Foundation Award.
---
Donor Recognition
The Department of Biological Sciences would like to gratefully acknowledge the generous donors who made a gift to the department from January 1, 2020–December 31, 2020. 
+ Faculty/Staff | # Parent | ~ Student | * Friend
Andrew Sabin Family Foundation
Reem Al Shabeeb, BS '17
Dr. Steven Bergmann, BA '72
Jeffrey Guertin, BS '05 +
Christopher Su-Hwa Hsu, BA '07
Dr. Emily Kleczko, BS '07
Dr. John McGurl, BS '84
Sara Ngo, BS '20
Amanda Nugent +
Robert Sadja, BS '85
Sophia Shea, BS '15
Lane Srochi, BA '77
Alexandra Straus, BS '19
Estate of Frances C. Weintraub, MA '37