Ioannis Eleftherianos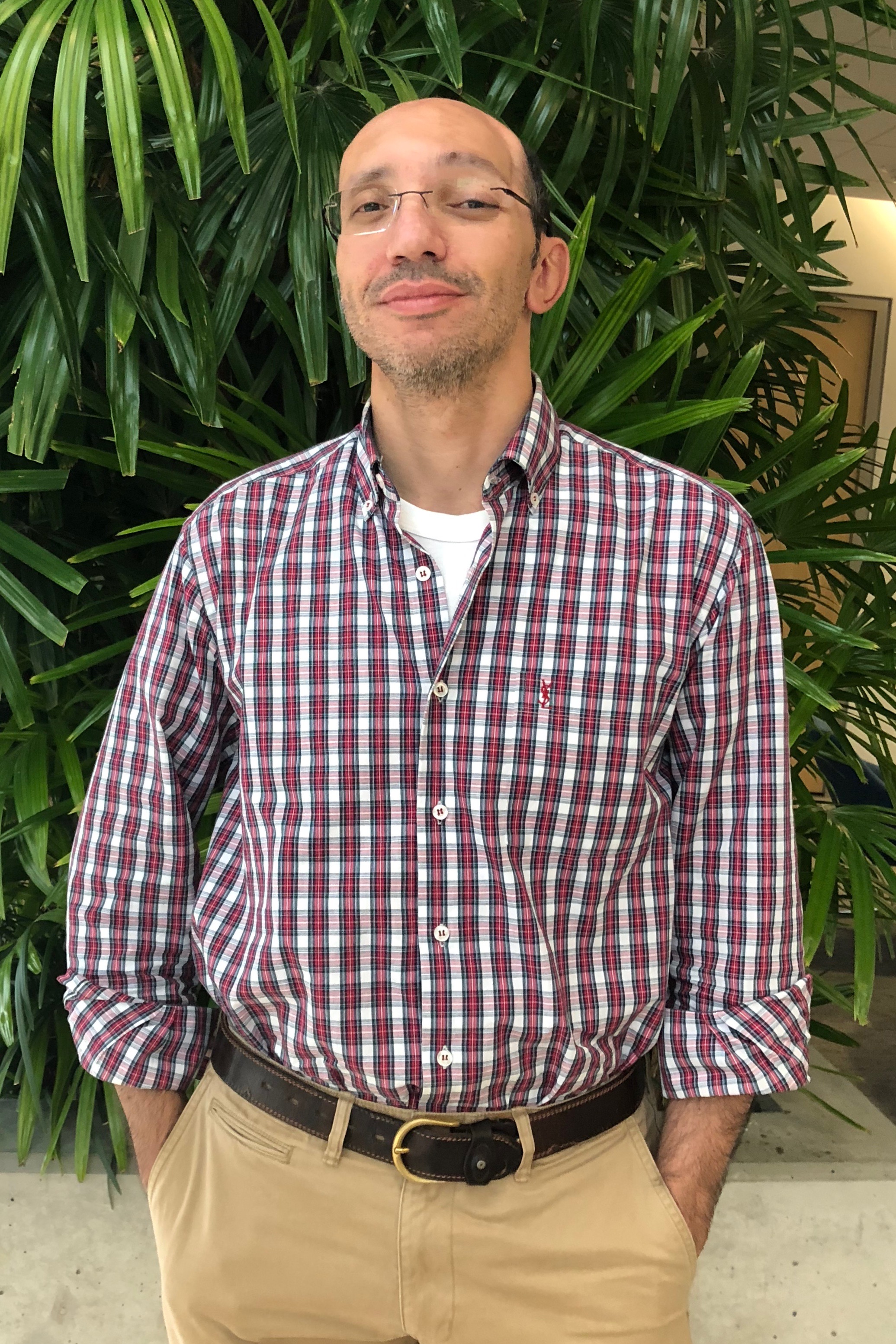 Ioannis Eleftherianos
Associate Professor of Molecular Biology
---
Contact:
Office Phone:
202-994-2367
Expertise
Insect infection and immunity.
---
Infection and Innate Immunity 
We investigate host-pathogen interactions using a model insect (Drosophila), a nematode parasite (Heterorhabditis) and its symbiotic insect-pathogenic bacterium (Photorhabdus). This is a very powerful system with the great advantage that all three players of the interaction can be genetically manipulated. RNA interference in the insect and nematode combined with bacterial genetics can be readily applied to investigate the molecular and evolutionary basis of insect immunity, bacterial symbiosis and nematode parasitism as well as the complex interactions between these biological processes. In addition all three genomes (Drosophila, Heterorhabditis and Photorhabdus) are sequenced, which allows very elegant studies on gene-to-gene-interactions.
Research questions:
Which genes the bacteria use to infect and persist in the fly?
What immune mechanisms are activated in the fly in response to infection by the nematode and/or the bacteria?
How does the nematode cope with the fly immune system?
We use a mix of molecular biology, basic microbiology and parasitology, cellular immunology, insect physiology/biochemistry, Drosophila genetics, insect and microbial genomics as well as immunohistochemistry techniques.
Bachtel ND, Hovsepian GA, Nixon DF, Eleftherianos I (2018). Allatostatin C modulates nociception and immunity in Drosophila. Scientific Reports 8, 7501.
Yadav S, Frazer J, Banga A, Pruitt K, Harsh S, Jaenike J, Eleftherianos I (2018). Endosymbiont-based immunity in Drosophila melanogaster against parasitic nematode infection. PLoS One 13, e0192183.
Shokal U, Kopydlowski H, Harsh S, Eleftherianos I (2018). Thioester-Containing Proteins 2 and 4 Affect the Metabolic Activity and Inflammation Response in Drosophila. Infection and Immunity 86, pii: e00810-17.
Eleftherianos I, Yadav S, Kenney E, Cooper D, Ozakman O, Patrnogic J (2018). Role of Endosymbionts in Insect-Parasitic Nematode Interactions Interactions. Trends in Parasitology34, 430-444.
Shokal U, Eleftherianos I (2017). Evolution and function of thioester-containing proteins and the complement system in the innate immune response. Frontiers in Immunology 8, 759.
Yadav S, Daugherty S, Shetty AC, Eleftherianos I (2017). RNAseq Analysis of the Drosophila Response to the Entomopathogenic Nematode Steinernema. G3 7, 1955-1967.
Vadnal J, Ratnappan R, Keaney M, Kenney E, Eleftherianos I, Halloran D, Hawdon JM (2017). Identification of candidate infection genes from the model entomopathogenic nematode Heterorhabditis bacteriophora. BMC Genomics 18, 8.
Shokal U, Eleftherianos I (2016). Thioester-Containing Protein-4 regulates the Drosophila immune signaling and function against the pathogen Photorhabdus. Journal of Innate Immunity 9, 83-93.
Eleftherianos I, Castillo JC, Patrnogic J (2016). TGF-β signaling regulates resistance to parasitic nematode infection in Drosophila melanogaster. Immunobiology 221, 1362-1368.
Castillo JC, Creasy T, Kumari P, Shetty A, Shokal U, Tallon LJ, Eleftherianos I (2015). Drosophila anti-nematode and antibacterial immune regulators revealed by RNA-Seq. BMC Genomics 16, 519.
Stokes BA, Yadav S, Shokal U, Smith LC, Eleftherianos I (2015). Bacterial and fungal pattern recognition receptors in homologous innate signaling pathways of insects mammals. Frontiers in Microbiology 6, 19.
Eleftherianos I, More K, Spivack S, Paulin E, Khojandi A, Shukla S (2014). Nitric oxide levels regulate the immune response of Drosophila melanogaster reference laboratory strains to bacterial infections. Infection and Immunity 82, 4169-4181.
Bhadra R, Moretto MM, Castillo JC, Petrovas C, Ferrando-Martinez S, Shokal U, Leal M, Koup RA, Eleftherianos I, Khan IA (2014). Intrinsic TGF-β signaling promotes age-dependent CD8+ T cell polyfunctionality attrition. The Journal of Clinical Investigation 124, 2441-2455.
Stoepler TM, Castillo JC, Lill JT, Eleftherianos I (2013). Hemocyte density increases with 
developmental stage in an immune-challenged forest caterpillar. PLoS One 8, e70978.
Eleftherianos I, Atri J, Accetta J, Castillo JC (2013). Endosymbiotic bacteria in insects: guardians of 
the immune system?Frontiers in Physiology 4, 46. 
Stoepler TM, Castillo JC, Lill JT, Eleftherianos I (2012). A simple protocol for extracting hemocytes from wild caterpillars. Journal of Visualized Experiments 15, pii: 4173.
Castillo JC, Shokal U, Eleftherianos I (2012). Immune gene transcription in Drosophila adult flies infected by entomopathogenic nematodes and their mutualistic bacteria. Journal of Insect Physiology [Epub ahead of print].
Eleftherianos I, Castillo JC (2012). Molecular mechanisms of aging and immune system regulation in Drosophila. International Journal of Molecular Sciences 13, 9826-9844.
Castillo JC, Shokal U, Eleftherianos I (2012). A novel method for infecting Drosophila adult flies with insect pathogenic nematodes. Virulence 3 (3).
Castillo JC, Reynolds SE, Eleftherianos I (2011). Insect immune responses to nematode parasites. Trends in Parasitology 27, 537-547.
Eleftherianos I, Schneider S (2011). Drosophila immunity research on the move. Fly 5, 1-8.
Eleftherianos I, Revenis C (2011). Role and importance of phenoloxidase in insect hemostasis. Journal of Innate Immunity 3, 28-33.
Eleftherianos I, ffrench-Constant RH, Clarke DJ, Dowling AJ, Reynolds SE (2010). Dissecting the immune response to the entomopathogen Photorhabdus. Trends in Microbiology 18, 552-560.
BISC 4132: Advanced Cellular-Molecular Biology
BISC 3209: Molecular Biology
BISC 4171: Undergraduate Research
BISC 6205: Current Topics in Cell and Molecular Biology
BISC 6219: Host-Microbe Interactions
BISC 8998: Advanced Reading and Research
2007 - 2009: Postdoctoral Research Fellow – French National Centre for Scientific Research (CNRS)/Institute of Molecular and Cellular Biology (IBMC), Unit of Research (UPR) 9022 "Immune Response and Development in Insects", University of Strasbourg - Strasbourg, France.
2003 - 2006: Postdoctoral Research Officer – University of Bath, Department of Biology and Biochemistry - Bath, UK.
2000 – 2002: Ph.D. (Insect Molecular Biology, Insect Physiology and Toxicology) University of Bath, Department of Biology and Biochemistry / Rothamsted Research, Division of Plant and Invertebrate Ecology – UK.
1998 – 1999: M.Sc. (Technology of Plant Protection / Molecular Entomology) University of Reading, Department of Agriculture – Reading, UK.
1993 – 1996: B.Sc. (Applied Biology / Entomology)
Technological Educational Institute (T.E.I.) of Larissa, School of Agricultural Technology, Department of Plant Production – Larissa, Greece.