Cole Malloy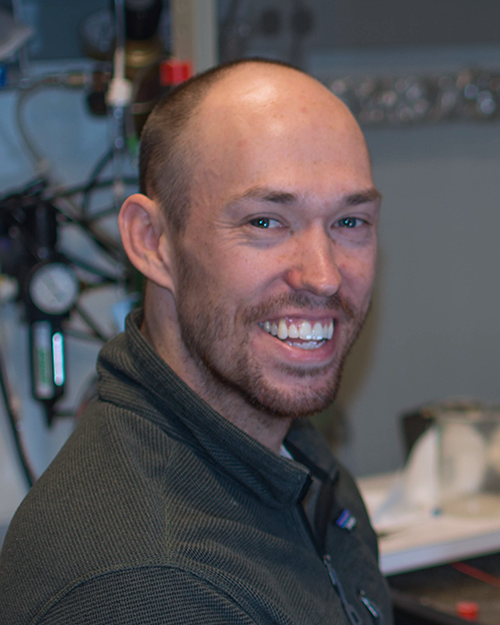 Cole Malloy
Adjunct Faculty
---
Contact:
Expertise
Neurophysiology, Synaptic Plasticity, Electrophysiology, Neural Circuits  
---
My primary research interest is in understanding the cellular basis of learning and memory with a more focused interest in how dynamic regulation of A-type K+ channels impacts dendritic integration and synaptic plasticity in the hippocampus.  Voltage-gated ion channels, including A-type K+ channels, play an active role in regulating the integration of synaptic signals in neurons throughout the brain. My broad focus is on understanding how these channels function in concert to regulate this integration and their collective contribution to learning and memory.
My current research question that I'm actively pursuing is to improve understanding of the cellular/synaptic mechanisms underlying cognitive flexibility.  Our lab (Hoffman lab at the NIH) generated a mouse model that demonstrates improved cognitive flexibility and my primary interest is in describing a cellular/molecular correlate for this learning phenotype. Impairments in cognitive flexibility are present in a number of neuropsychiatric disorders and improved understanding of this process will help facilitate potential therapies to mitigate the severity of the disorders.
Tatsi C, Maria AG, Malloy C, Lin L, London E, Settas N, Flippo C, Keil M, Hannah-Shmouni F, Hoffman DA, Stratakis CA. Cushing Syndrome in a Pediatric Patient With a KCNJ5 Variant and Successful Treatment With Low-dose Ketoconazole. J Clin Endocrinol Metab. 2021 May 13;106(6):1606-1616. doi: 10.1210/clinem/dgab118. PMID: 33630995; PMCID: PMC8118581.
Hu JH, Malloy C, Hoffman DA. P38 Regulates Kainic Acid-Induced Seizure and Neuronal Firing via Kv4.2 Phosphorylation. Int J Mol Sci. 2020 Aug 18;21(16):5921. doi: 10.3390/ijms21165921. PMID: 32824677; PMCID: PMC7460594.
Hu JH, Malloy C, Tabor GT, Gutzmann JJ, Liu Y, Abebe D, Karlsson RM, Durell S, Cameron HA, Hoffman DA. Activity-dependent isomerization of Kv4.2 by Pin1 regulates cognitive flexibility. Nat Commun. 2020 Mar 26;11(1):1567. doi: 10.1038/s41467-020-15390-x. PMID: 32218435; PMCID: PMC7099064.
BISC 2320 Neural Circuits and Behavior 
BISC 2222 Developmental Neurobiology
Postdoctoral, NICHD National Institutes of Health 
PhD, University of Kentucky 2017
BS, University of Kentucky 2010