2022 Biological Sciences Department Newsletter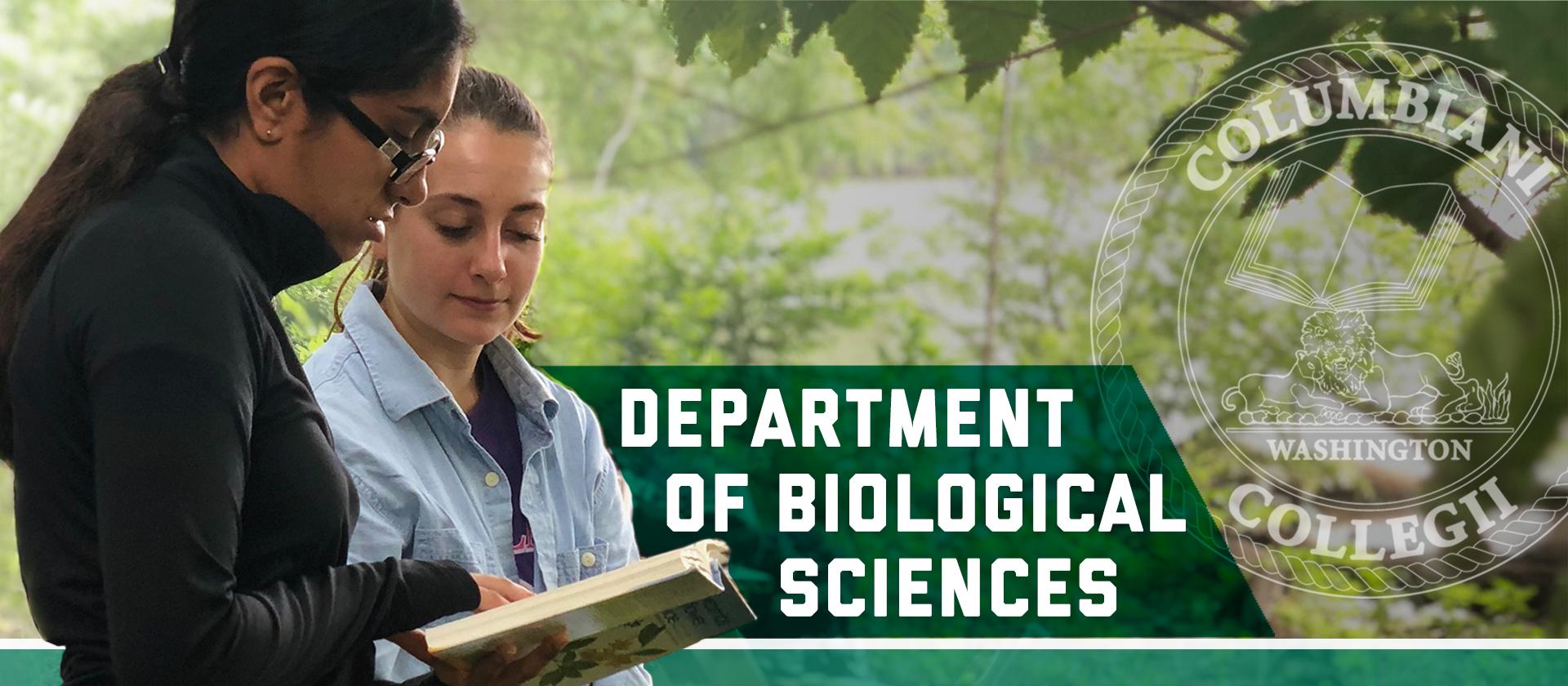 ---
Message From the Chair
Greetings to all of our alumni from the George Washington University Department of Biological Sciences! 
I am pleased to report that, after an unusual year of remote teaching and learning, we are back on campus and once again enjoying the benefits of in-person engagement and collaboration. Through this newsletter, you'll read about a few of the exciting things happening in the department, including the achievements of our Biological Sciences community.
Thank you so much for your support and involvement. Please stay in touch.
Sincerely,
Damien O'Halloran
Chair, Department of Biological Sciences
---
Department Spotlights 
Brood X Cicadas Spelled Busy Summer for Faculty and Students
After 17 years underground, billions of periodical cicadas emerged last summer along the East Coast. This created a very exciting and busy summer for Professor John Lill as well as postdoctoral scientist Dr. Zoe Getman-Pickering and many students from the Lill lab who were in the field studying the emergence of the Brood X periodical cicadas. This research was covered in many national and international media outlets, including The Washington Post and NPR, and in GW Today.
Dr. Getman-Pickering and the Lill lab also developed an educational website that was accessed by more than 10,000 unique visitors. It included digital educational materials that were downloaded and used during the pandemic in classrooms throughout the eastern United State by thousands of students and educators. The Lill lab research team also gave dozens of educational talks, walks, webinars, zoom safaris and Q&A sessions for local schools and environmental groups. 
Researchers Switch Off Gene to Switch On Ultraviolet in Butterfly Wings
Dr. Arnaud Martin and students from his lab published an exciting study in the Proceedings of the National Academy of Sciences that revealed how butterfly species develop distinctive traits and offer a one-of-a-kind opportunity to witness evolution in action. His findings were reported in several media outlets including GW Today.
Dr. Martin and his lab—PhD students Vince Ficarrotta and Ling Sheng Loh; postdoctoral scientist Dr. Joe Hanly; and master's students Caroline Francescutti and Anna Ren—uncovered the genetics and structural determinants of UV iridescence in butterfly wings. The team identified a gene that determines whether ultraviolet iridescence shows up in the wings of butterflies and showed that removing the gene in butterflies whose wings lack UV coloration leads to bright patches of UV iridescence in their wings.
The team looked at two species of North American butterflies: the orange sulphur (Colias eurytheme) and the clouded sulphur (Colias philodice). The wings of the male orange sulphur butterfly reflect UV light, which is invisible to the naked eye. Conversely, the wings of the female orange sulphur butterfly and the male and female clouded sulphur butterflies do not display UV coloration.
This difference in ultraviolet color allows females to recognize conspecific males. Genomic scans indicated that UV is key to reproductive isolation in these two species: while most of the genome was shared between the two species, the portion encoding ultraviolet color was markedly different, and thus includes the genes that differentiate the two species.
The team then identified the gene that is controlling this difference, and used CRISPR genome editing to modify its activity. Butterflies that are normally not iridescent acquired the ultraviolet color after genome editing of the causal gene, demonstrating it was effectively acting as a genomic switch responsible for the color difference between the two species.
---
Alumni Class Notes
Mariana Abarca Zama, PhD '16, is an assistant professor at Smith College.
Reem Al Shabeeb, BS '17, MD '21, received her medical degree from the George Washington University School of Medicine and Health Sciences and is now an internal medicine resident physician at Inova Fairfax Medical Campus.
Alexi Archambault, BS '12, is a pharmacoepidemiologist in the oncology therapeutic area for Regeneron.
Paul Arguin, BS '89, is a retired physician and author of The New Pie. He published his second cookbook, Fabulous Modern Cookies, in 2022 with his husband, Dr. Christopher Taylor.
Carrie Baquie, BS '97, is a holistic chronic illness coach and educator empowering those facing long term health challenges to rediscover a life of love by getting support, managing medical appointments and transforming their health at the levels of mind, body and spirit.
Colleen Cagno, BS '96, MD '00, is a professor in family and community medicine and a practicing family physician with expertise in maternal-child health at the University of Arizona College of Medicine-Tucson.
George Chang, BS '82, MS  '86, has worked at the Washington Hospital Center Urology for the last 20 years.
Roger Chaufournier, BS '79, MS '83, is the CEO of a consulting firm, focusing on innovation and quality improvement. He has worked extensively in health care services, including hospital administration, academic medicine, managed care and population health. 
Sheryl Colliver, BS '81, MS '85, MPhil '90, PhD '91, retired after 28 years in the Federal Service. Sheyrl was a branch manager at the Environmental Protection Agency and a senior regulatory and policy advisor in her last 11 years of service. From 2015-2019, she also worked as a consultant.
Luke Fey, BS '13, will finish his Emergency Ultrasound Fellowship at NewYork Presbyterian Brooklyn Methodist in June 2022. He will be moving to Miami in July to work as an attending at the University of Miami Emergency Department.
Steven Frick, BS '87, is professor and vice chair of the Department of Orthopaedic Surgery at Stanford University, and is the Chief of Pediatric Orthopaedics. In 2018 and 2019, he was the president of the Pediatric Orthopaedic Society of North America.
Roopa Gulati, BS '93, MS '95, went on to complete dental school at New York University in 1999 and a general practice residency at Brookdale Hospital in 2000 in Brooklyn, NY. She then practiced dentistry in New York and Maryland and is currently in Virginia at Downtown Vienna Dental.
Murray Hammerman, AA '54, BS '55, retired after 45 years as a practicing ophthalmologist in the Rockville and Gaithersburg areas. He has been happily married for 62 years, has five children, 11 grandchildren and is enjoying the fruits of their labors.
Christopher Hanson, BS '00, is the associate director for scientific & business operations for the Division of Intramural Research at the National Institute of Allergy and Infectious Diseases in Bethesda, Md.
Christopher Hsu, BA '07, was promoted to global marketing director for FluMist/Fluenz at AstraZeneca and will serve as the global commercial lead for its vaccine.
Mariam Kazim, BS '78, worked as a consultant immunologist in Dubai from 1984 until her retirement in 2014.  She is currently working as a businesswoman. 
Siddharth Shrikant Kulkarni, PhD '22, started a postdoctoral position at the University of Wisconsin-Madison to study eye evolution and development in arachnids.
MyoungJin Kwak, BA '18, is studying neuroscience at the Korea Institute of Science and Technology in South Korea. She plans to visit D.C. after her graduation. 
Matthew LeFauve, PhD '21, is a postdoctoral fellow in the Institute of Environmental Health Sciences at Wayne State University, researching how exposure to emerging pollutants of concern alter neural development and metabolic health.
Saeed Marefat, BS '80, is a plastic and reconstructive surgeon in private practice in the Washington, D.C., metropolitan area.
Anita Mittal, BA '01, MD '05, moved west to California and has been a practicing physician since 2008. She has a lovely family consisting of one diva pomeranian and a funny 5-year-old. Her life couldn't be better with her husband, who is also a former GW student.
Regina Munter, BS '97, MS '99, works in the bio-pharmaceutical industry developing evidence-based arguments for the coverage and reimbursement of diagnostic agents, vaccines and treatment.
Andrew Poulshock, BS '85, has been working in his solo family medicine practice in Northeast Philadelphia for the past 32 years.
Janet Powers, BS '82, retired in February 2022 after 35 years working in various government contracts supporting NASA space life and physical sciences and human research programs.
Tahlia Price-Rivera, BS '19, is a student at Touro College of Osteopathic Medicine in Harlem, N.Y., where she plans to specialize in primary care and serve disadvantaged communities in the metropolitan area.
Mohammad Raza, BA '02, MD '06, is currently a physician in Wisconsin.
Anthony Saad, BS '20, is integrating biology and public health as a MD/MPH student physician.
Carmen Samuel-Hodge, BA '79, is an associate professor and just two years away from leading her last two research projects after 20 years of research and teaching in public health nutrition at the University of North Carolina, Gillings School of Global Public Health. 
Alicia Schueler, BA '01, is moving to Minnesota to work on prairie ecosystems.
Sarthak Shah, BS '20, is a second-year medical student at GW's School of Medicine and Health Sciences.
Joao Filipe Tonini, PhD '17, is a postdoctoral fellow at the Museum of Comparative Zoology at Harvard University.
Laura Towart Bandak, BA BS '98, licensed a ground breaking personalized cancer therapeutics platform from Mt Sinai Medical Center and founded the London-based company Vivan Therapeutics, which brings personalized treatment recommendations to patients globally. 
Paul Upman, BA '70, retired in 2006 as the scientific director at North American Sciences in Northwood, Ohio. His medical specialty was pre-clinical evaluation of medical devices.
Kat Vissio, BS '10, is a small animal and exotics veterinarian in upstate New York. She works in general practice, partners with shelters for spay/neuter programs and organizes continuing education lectures for the Southern Tier Chapter of the state vet association.
---
Department Kudos
Dr. Carly Jordan was awarded a National Science Foundation (NSF)  grant for $499,811 to broaden undergraduate participation in ecology and evolution research through Course-based Undergraduate Research Experiences (CUREs) using digitized natural history collections data.
Dr. Gustavo Hormiga received funding from NSF to study Velvet worms (Onychophora) as part of NSF's goal to support research on Poorly Sampled and Unknown Taxa (PurSUiT) in order to fill significant gaps in biodiversity knowledge.
Biology Department Graduate Student Ezra Kottler was selected as a 2022 Smith Conservation Research Postdoctoral Fellow. 
Dr. Alex Jeremic  was awarded $161,500 in funding from the National Institute of Biomedical Imaging and Bioengineering to develop new treatments of hypothyroidism. 
In November of 2021, junior biology major Sarah Shamash won an award for Best Virtual Poster at the annual meeting of the Entomological Society of America.
This past year, senior biology major and Cisneros Scholar Jocelyn Marquez was accepted into the dual degree BS/MS program in the Department of Biological Sciences, where she will be completing her MS degree in biology in the Lill lab studying the effects of climate change on plant-insect interactions.